LIVECUBE PENTOMINO PIECES
Livecube is a Never Ending Puzzle Games with its unlimited combinations of 2D and 3D play cards that challenge your mind and entertains you in the same time.
You only need 12 Pentomino pieces to play Livecube 2D & 3D puzzle games.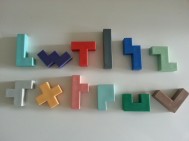 How to play LIVECUBE 2D & 3D Puzzle Games
Livecube has puzzle pieces, block & cube to play with 3 difftherent cards:
2D, 3D and 3D Classic.
Below you can see what you can play with the Livecube pieces, block, cube and cards ...